Built something weird, one-off or want to? Ask or tell us about it here.
Shoot, a man could have a good weekend in Dallas with all that stuff...
I really enjoyed that Bro !!! Thanks !!!! Pa
they were well-known, if not common, at one time. Harley 45" and to a much lesser extent, Indian engines were available NOS from various dealers at near-scrap prices in the 60s and early 70s and British chassis were available from breakers at similar prices. I know someone who has had four or five Featherbed Norton frames hanging in his rafters for about 30 years now.... I have three of those Ariel frames which were cheap at the time, and you couldn't give BSA or Albion gearboxes away, I used one as a doorstop for years.

The "chopper" movement did huge damage by ferreting out and cutting up huge quantities of good gear that was just laid aside....
Shoot, a man could have a good weekend in Dallas with all that stuff...
Hey Britt ,Thanks so much.That was really a great read,very inspiratial .
thanks for the link..

I would like to have a swing arm frame for my BSA 4 speed transmission---WL/KH engine combo. Frames here in Germany.. not so easy to come across

George
If I were building a bike of that sort now I would go to Unity Equipe
http://www.unityequipe.com/html/products.html
for a new, replica Featherbed frame. The BSA A7/A10 frame won't take a 45" engine without either cutting and welding to extend the engine bay, or major engine work to eliminate the generator and substitute a crank-mounted alternator ( Dr Dick's "Frankenstein" bike is an example of this ). None of the A50/A65/OIF frames come close to fitting. None of the BSA forks come close to the Norton units, least of all the A7/A10 variety
Unity are a long-established company if you are fussy about the "heritage" side, and their frame is a seriously good piece of kit
Shoot, a man could have a good weekend in Dallas with all that stuff...
45brit
I am running a short 12V alternator that spins ouside the housing on my 42U and also on my 46FL. One of those may be short enough to do what you need.
F
do you mean one of these?
http://www.ebay.com/itm/GENERATOR-ALTER ... es&vxp=mtr
that's quite interesting. I don't believe it would fit any twin-downtube frame such as a BSA A10, but it would probably fit a single down-tube frame such as a rigid Ariel or BSA where there is some clearance available
Shoot, a man could have a good weekend in Dallas with all that stuff...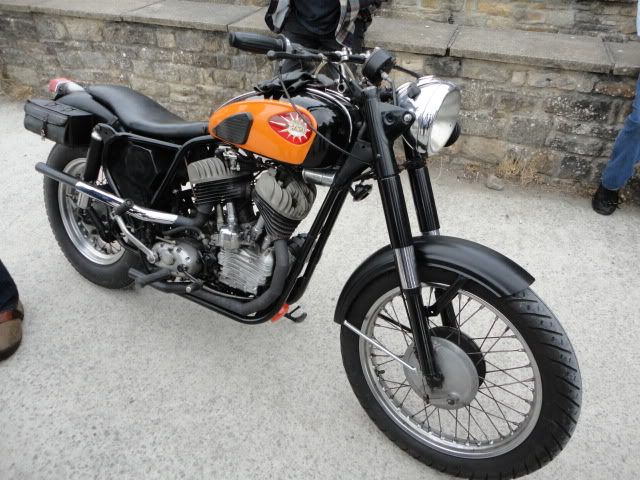 A 45 in a BSA A7 frame.
The front engine mount lugs were cut off,and a metal plate bent and welded around the front tubes for the front mount.
The rear mount is a square tube welded accross the frame,two vertical tubes come up from that,and a plate welded accross them to take the rear mounting.
The top of the frame looks odd because that's a 250 cc Bsa tank perched on top.
---
Return to Morthodites-"Non Factory"
Who is online
Users browsing this forum: No registered users and 1 guest