I've been on here a few times in the last couple years asking lots of silly questions in my attempts to edu-ma-cate myself in all things 45 as I've been slowly putting together a bike for vintage roadracing. It's getting pretty close to done so I thought I'd post a pic or two to let folks see what I've cobbled together.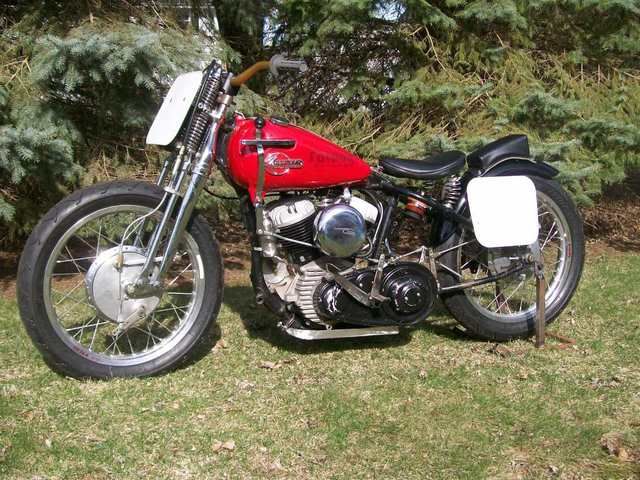 It's been running for a little while now & I've been tinkering a bit to try to make it run well. As we all have experienced, there is often a lot of room between "running" & "running well" ….
The bike seems to run kinda OK at lower RPMs & smaller throttle openings, but breaks up & backfires real bad & won't make power at more throttle & higher loads. It seemed like it was running lean so I tried several different main jet sizes but that seemed to have little or no apparent affect. I was puzzled to the point I was scratching a bald spot on my head. Rather than just keep scratching until I wore through to my skull, I went to a local shop that specializes in old H-Ds & told them my sad tale & asked if they were interested in trying to figure it out for me. Clever boys that they are, they asked not about the carb, but my ignition. Well, it's just an old F-B mag off an old iron head Sporty. It's got new points, condenser, cap & wires, but otherwise is of unknown condition. So, it's currently off & at the shop getting examined closely. Hopefully, they will find the smoking gun & we'll be happy ever after, although the carb will certainly still need some degree of optimization, I'm sure.
So, thanks for all the help so far from a bunch of folks on here (but don't sigh with relief just yet - I'm sure my questions haven't ended yet!).